Ev100 goggles best FPV entry level at low price
---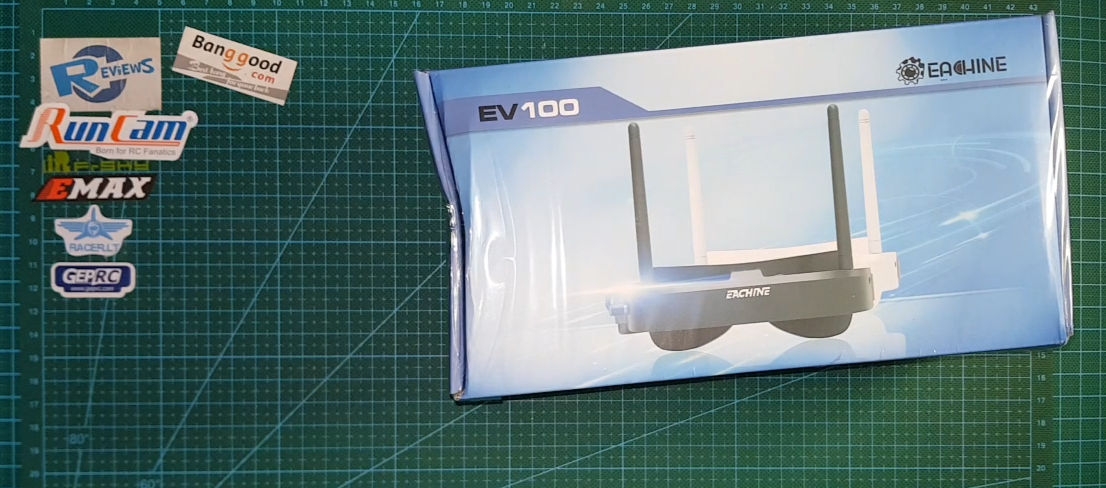 Ev100 goggles for first time FPV experience!
If you don't have other tipe of fpv goggles, or you have small size face (or you are young kid) and love to watch movies from very last cinema seats. And don't want to sped a lot of money on some branded goggles.
This goggles will be great for you. Eachine come with brand new innovation in lens adjustments. They manage to make new fun feauture in this tipe of goggles.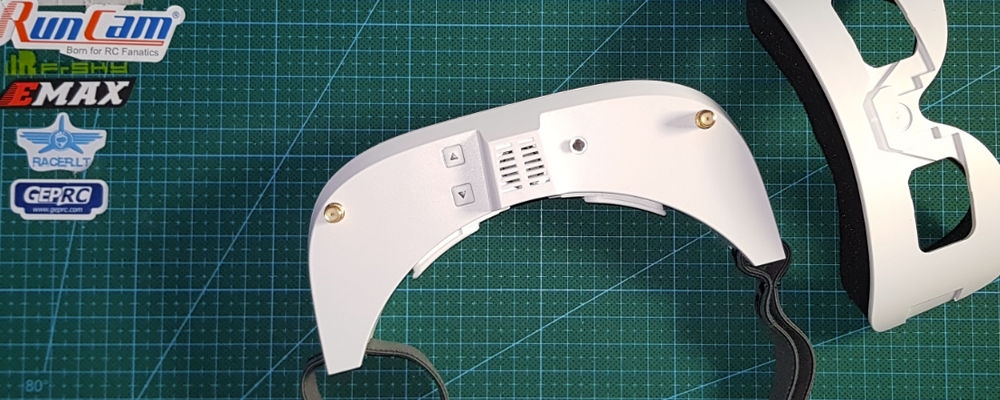 The overall look and feel of the goggles seems really nice at first glance. They're sleek and light, two very important aspects for good goggles – nobody wants to wear an unnecessarily heavy weight on their face!
The main goggles unit is attached to a faceplate on which there is some foam attached. The foam seems to be standard in FPV goggles now. Those in the hobby for a while may have also seen the old eye cups – personally, I like foam better as it's far more comfortable and it also accommodates a variety of face sizes, too. Some people may have found the eye cups rather uncomfortable.
An interesting touch with the foam on the faceplate is that it is attached with velcro instead of stuck on. This makes changing the foam quite easy.
When I changed the foam on my Fat Sharks (old ones hd2) after a long time, it was quite hard to remove the foam – some of the old foam is still stuck to the plate. I would have to use some isopropyl alcohol or something to remove and dissolve it. Velcro seems like a nice touch.
On the top of the goggles, you have two RP-SMA connectors for antennas (this goggles does not have diversity but only 2 antennas), a fan to keep your optics from fogging up, two buttons to change channels, and a little joystick button to change contrast/brightness/other menu options.
The receiver is built in to the goggles, and has two antennas – but NO DIVERSITY.
There does not seem to be a DVR built-in – however, for the price, not having a DVR seems forgivable. You can set up an external DVR through the goggles, though. (Eachine EV100 Micro AV Recorder 1280*480 Mini DVR Support 32G TF For Goggles)
The bottom of the goggles have two sliders to adjust the IPD(inter-pupillary distance), which can be adjusted from 58mm to 68mm, which is pretty standard and should fit most people comfortably.
There is a barrel jack for connecting the battery, and an AV jack for any peripherals – you can connect to HDMI using an AV-HDMI cable.
You secure the goggles to your face using the strap – this is simple one way strap, not like the three way strap found on the Aomway Commanders.
For the price that the Eachine EV100 goggles are available at (now it's only 99$), if portability is an important feature for you, you can't go wrong if you have a tight budget!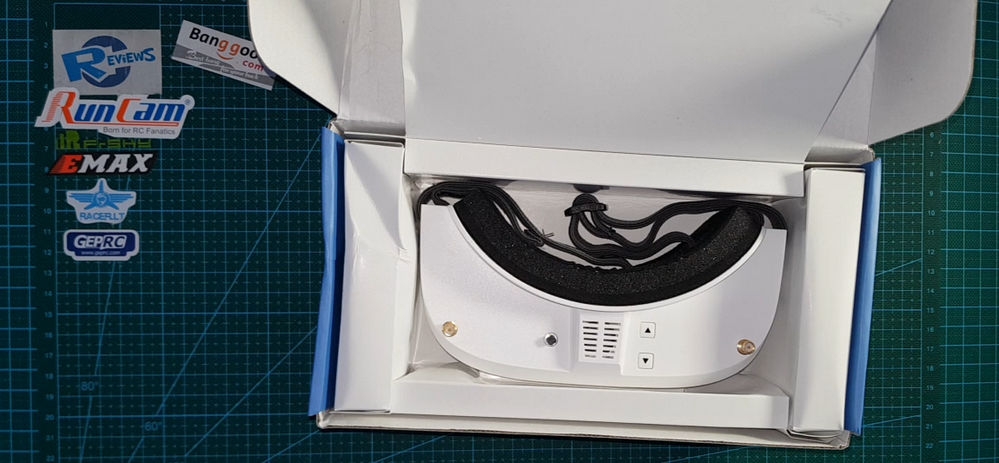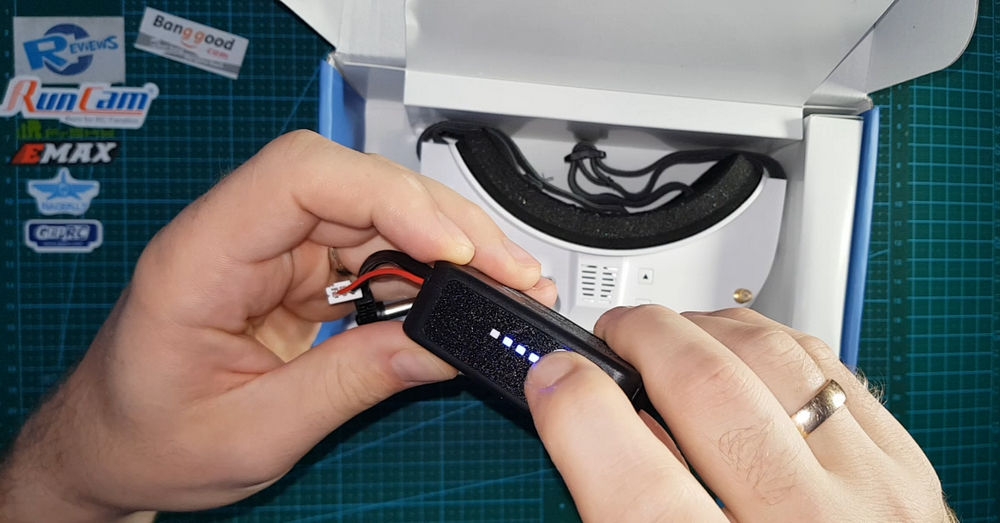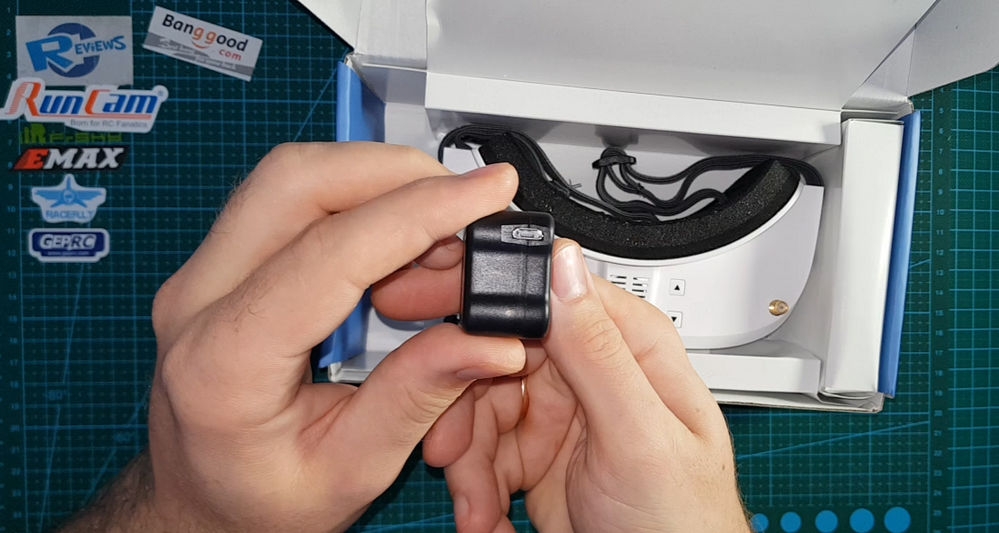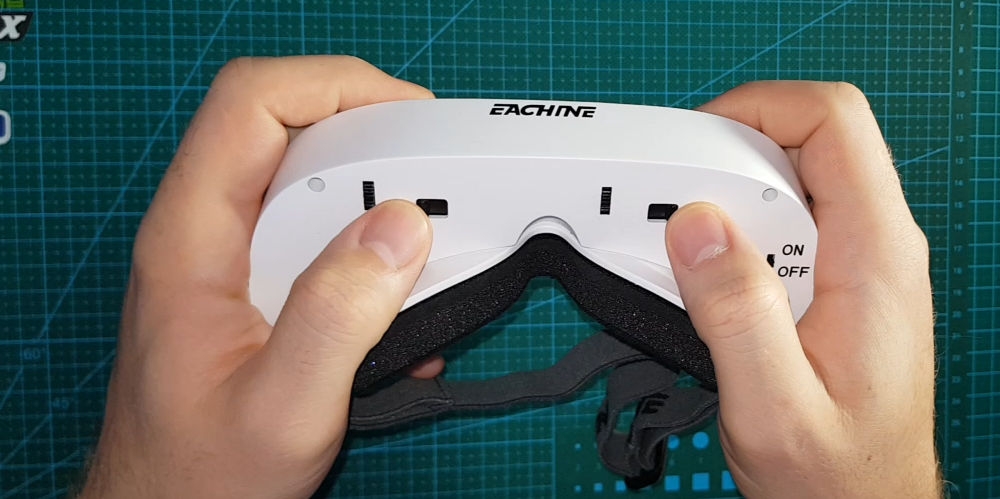 Get your's Eachine EV100 720*540 5.8G 72CH FPV Goggles With Dual Antennas Fan 7.4V 1000mAh Battery
Also special DVR Eachine EV100 Micro AV Recorder 1280*480 Mini DVR Support 32G TF For Goggles
And extra battery Eachine EV100 2S 7.4V 1000mah LiPo Battery DC 2.1mm*5mm 2S charged via USB
More pictures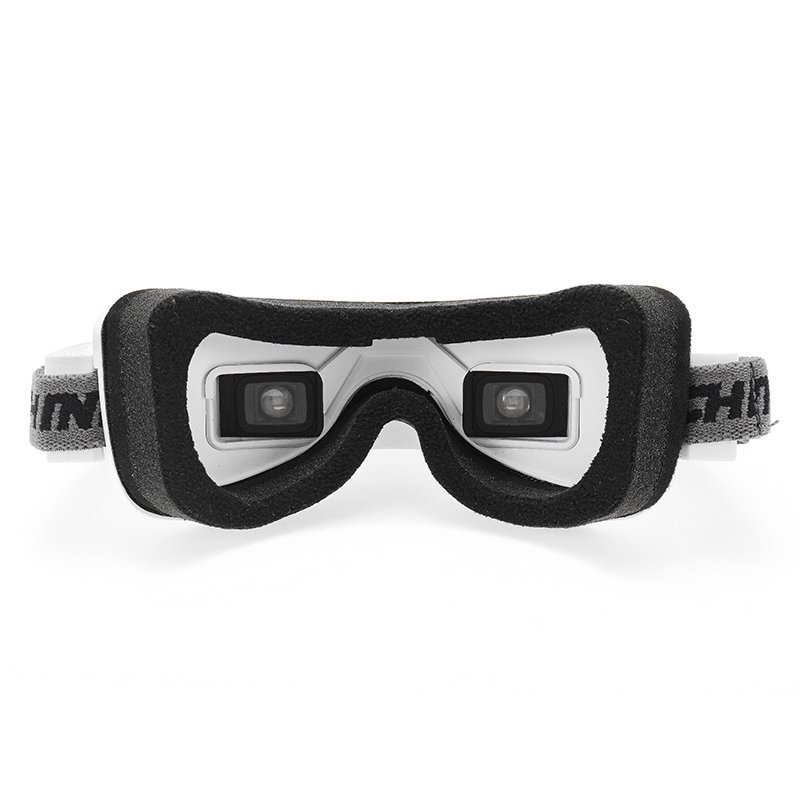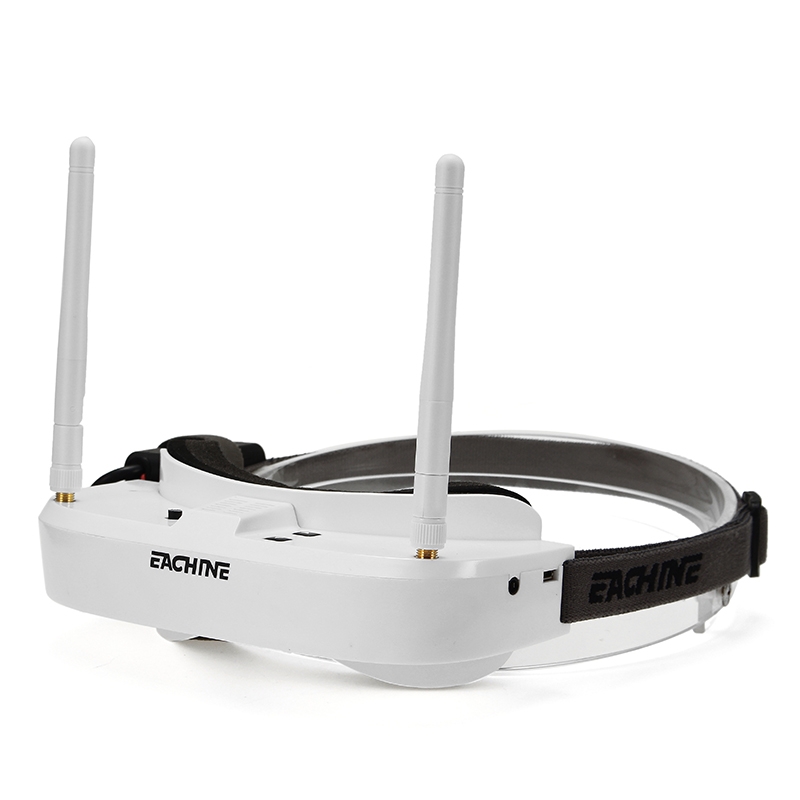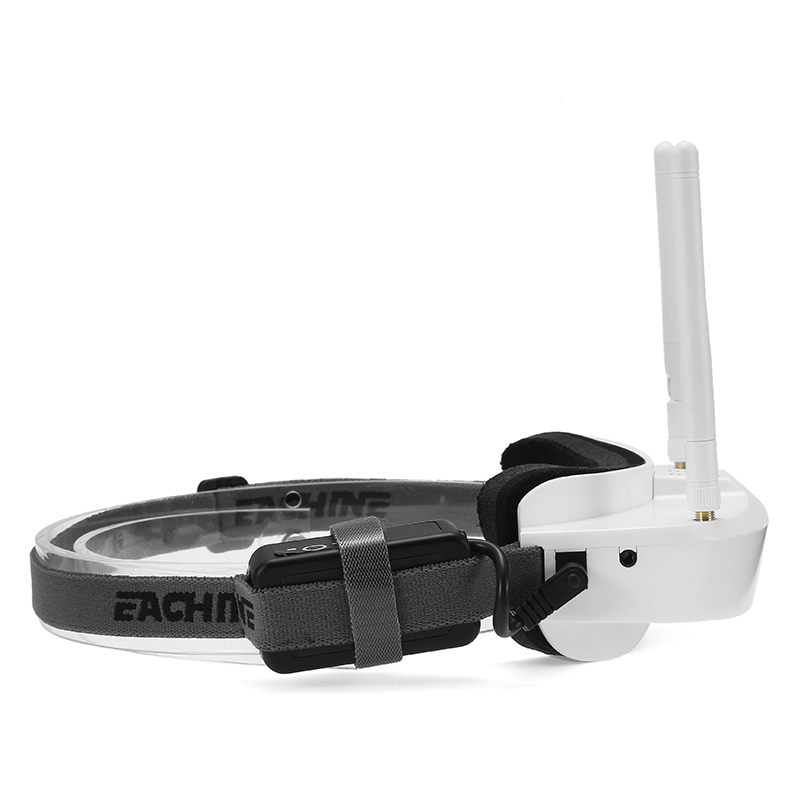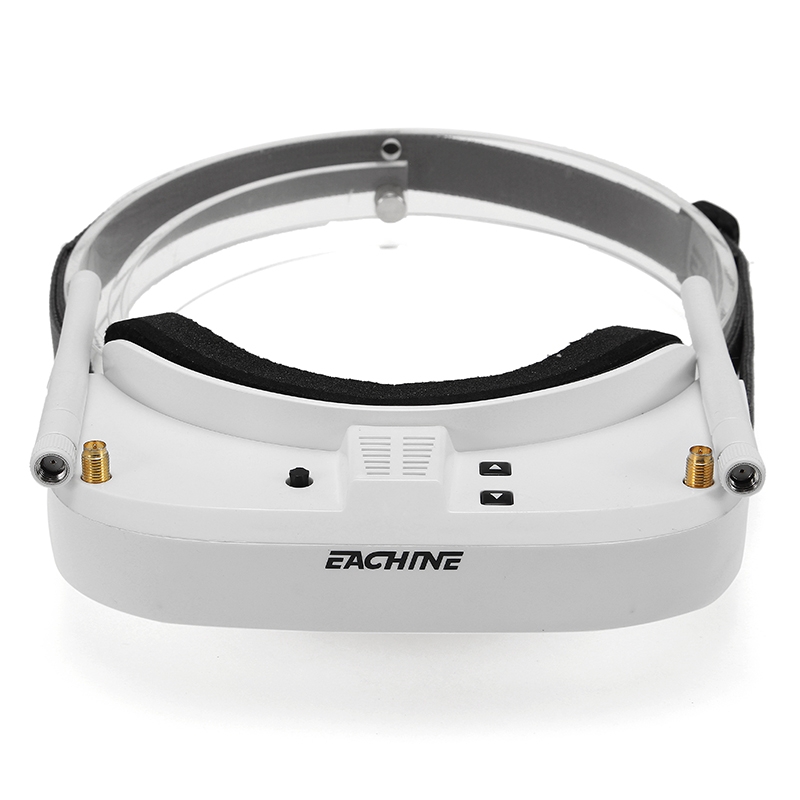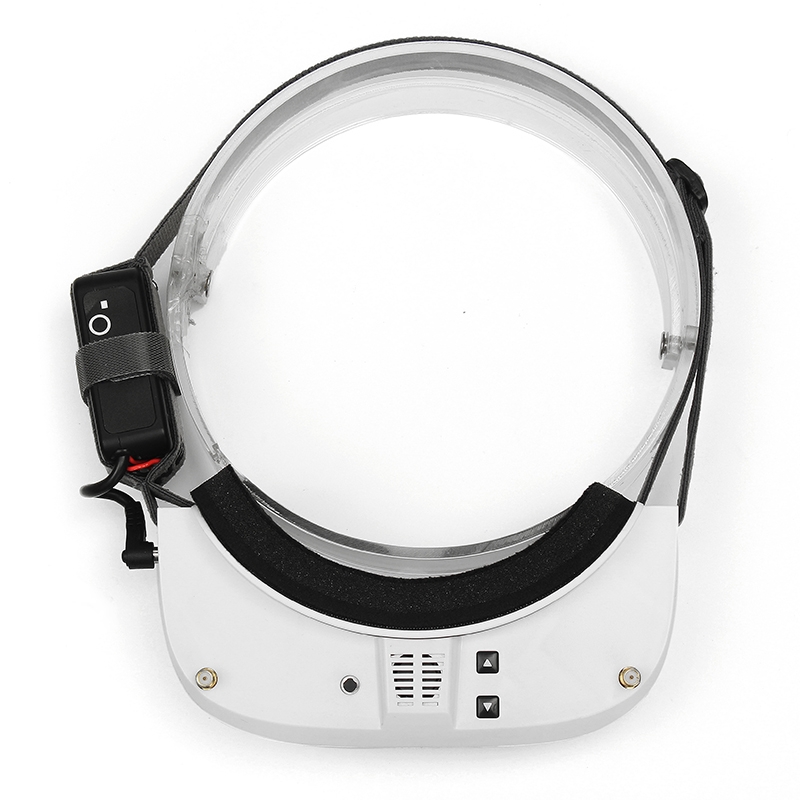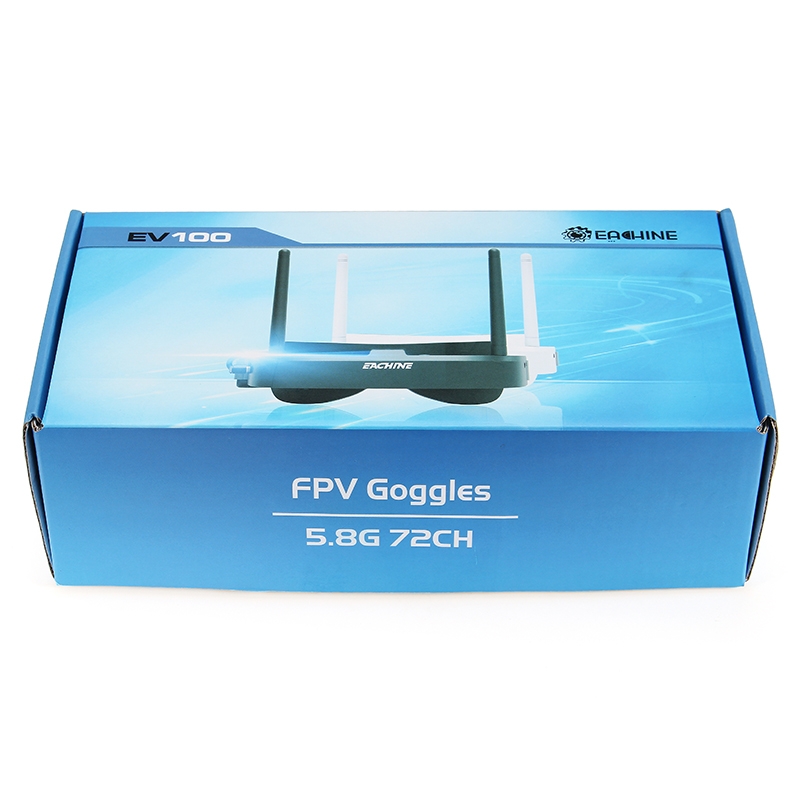 More information
Warning :Don't use balance plug to charge the battery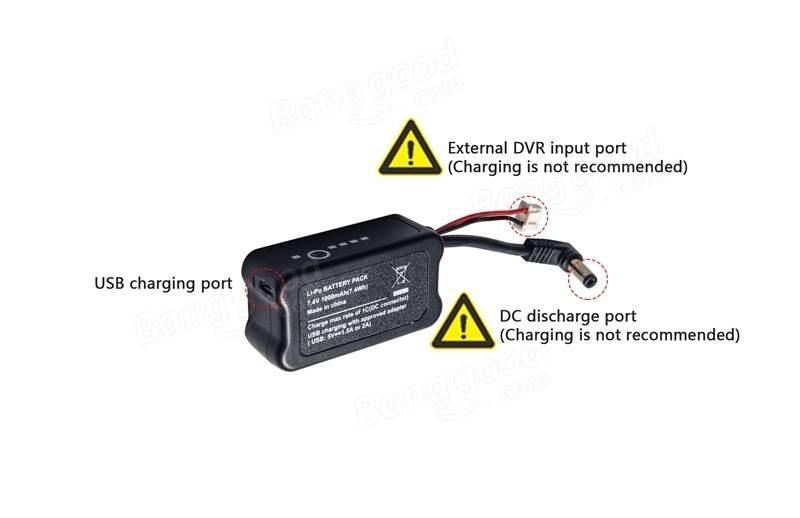 Description
Brand Name : Eachine
Item Name : EV100
Size : 165mm*76mm*30mm
Weight : 221g(with battery 57g and antenna 13g)
Package Weight : 400g
Display
Resolution : 720*540
FOV : 28° diagonal
IPD : 58-68mm
Ratio : 4:3
Focal length adjusting: under 400 degree of myopia and hyporopia 150 degree
Specification
Frequency : 5.8G 5333Mhz-5945Mhz
Sensitivity : <=-93dB
Antenna Impedance : 50Ω
Antenna Gain : 3dBi
Antenna Connector : RP-SMA
Video Formate : NTSC/PAL
Support AV IN/OUT
Support Focal Length/Brightness/Contrast Adjustment
Suport Firmware Upgrading
Power Input : 7.4V
Low Voltage : 6.8V
Battery : 2S 7.4V 1000mAh
Charging : USB Cable(not included)
Working Temp. : -10℃-+40℃
Features
Support AV Input and Output
Support External HDMI to AV Module
Support External DVR module
Single receiver with Dual Antennas, enhance the reception and stable performance.
With Fan, can defog the glasses for good visual experience.
Adjustable focal length,allows pilots under 400 degree myopia view directly via naked eye
Adjustable IPD 58~68mm
Auto Search function, can auto search all frequencies and select the channel of stongest signal.
Has 3 Racing Modes : 4/6/8 pilots. 60-80MHz interval between adjacent channels greatly decrease interference.
Has Debug Mode, requires a corresponding VTX which support pitmode and extra frequency 5300MHz

Package Included
1 x Eachine EV100 5.8G 72CH FPV Goggles
1 x 7.4V 1000mAh Battery
2 x RP-SMA 3dBi Antenna
1 x User Manual
Get your's Eachine EV100 720*540 5.8G 72CH FPV Goggles With Dual Antennas Fan 7.4V 1000mAh Battery
Also special DVR Eachine EV100 Micro AV Recorder 1280*480 Mini DVR Support 32G TF For Goggles
And extra battery Eachine EV100 2S 7.4V 1000mah LiPo Battery DC 2.1mm*5mm 2S charged via USB
Eachine EV100 Micro AV Recorder 1280*480 Mini DVR Support 32G TF For Goggles

Specification:
Item name: EV100 DVR Video Audio Recorder
Operating Voltage: DC 5V/ 7.4V(2S)
Working Current : 200MA ~ 240MA
Video Format: NTSC/PAL
Video Output Size: VGA(640*480px)D1(720*480)HD(1280*480)
Light Frequency: 50HZ/60HZ
Compress Format: MJPEG
Video Format : avi.
Records Frame Rate: 30 Frames
Max Support: 32G TF Card
Size: 38.5mm*30.8mm*12.5mm
Weight: only 9g
Special DVR Eachine EV100 Micro AV Recorder 1280*480 Mini DVR Support 32G TF For Goggles
2017-10-27 00:29:27
---
---
Back
---
Add Comment